Jo Caird investigates the weird and wonderful world of The Grinning Man
Six years ago, composers Tim Phillips and Marc Teitler spotted a movie poster on the wall of a friend's flat. It was for the 1928 silent horror film The Man Who Laughs, an adaptation of Victor Hugo's L'homme qui rit.
'We were totally mesmerised by the central image of the man whose grin seemed to alternate between satanic and holy each time we looked at it,' remembers Teitler. They read the book and took it to writer Carl Grose and Bristol Old Vic artistic director Tom Morris, who agreed that it could make a great stage musical. The Grinning Man was born.
Having made its world premiere at the Bristol Old Vic in autumn 2016, this magical musical transfers to Trafalgar Studios in December, riding a wave of rave reviews. It tells the story of freak show star Grinpayne, a young man disfigured in childhood who now bears a horrible scar of a smile (the 1928 film is credited as the inspiration behind the Joker in Batman). Louis Maskell was nominated for the UK Theatre Award for Best Performance in a Musical for his portrayal of Grinpayne, and the show also stars Olivier Award-winner Julian Bleach as the corrupt court clown Barkilphedro. Both actors are among the cast members returning for the West End run, which sees the setting of the show moved from a mythologised Bristol of uncertain date, to 'Lonnn'donnn', a 'strangely similar alternate version of London', says Grose.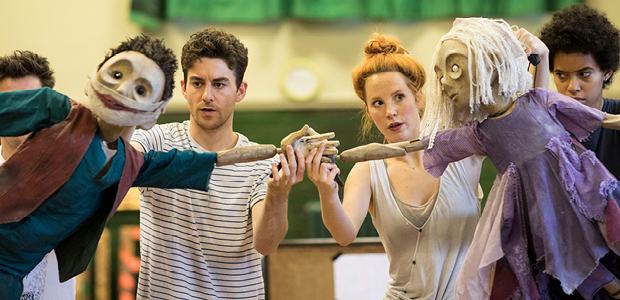 Louis Maskell and Sanne den Besten
What the team found so inspiring about The Man Who Laughs is the world of the novel. Philips and Teitler had been on the lookout for a project to do with Morris and Grose for a long time, having done some initial work on another book-to-stage musical at Battersea Arts Centre, where Morris had been Artistic Director. 'We knew we wanted a great love story that had a sort of carnival atmosphere,' says Phillips. Hugo's 1869 book, which he wrote while in exile in Guernsey, fitted the bill exactly: 'We all fell in love with Victor Hugo's mad parallel universe.'
Phillips and Teitler came up with the 'musical canvas for the show and the main melodies' over a series of writing retreats 'as far from civilisation and its distractions as possible', recalls Teitler. Morris knew immediately on hearing what they'd come up with that the pair had captured the essence of the book: 'The music is incredibly evocative of this world. You listen to the music and you say, 'Good Lord, I don't think I've ever been to this place before, but I kind of know what it feels like'.'
If the atmosphere of The Grinning Man is faithful to the spirit of Hugo's original novel, its plot is not. Grose took a deliberately loose approach to adapting what Morris calls 'wildly eccentric' story for the stage.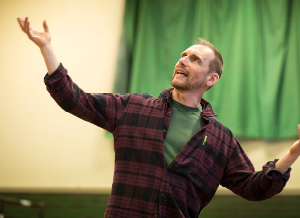 Julian Bleach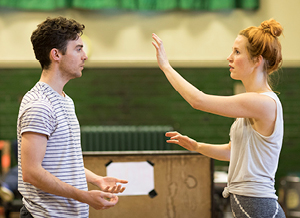 Louis Maskell and Sanne den Besten
I felt the folk tale nature of it needed to soar,' he says. 'Fairy tales and folk stories deeply fascinate me because they operate on an unconscious level. They have a power. A darkness. They have monsters in them. And love. Children losing their parents, or finding out they aren't who they thought they were. Forests and storms. Sounds like a description of a horror movie, doesn't it? I think certain horror films operate on the same level, actually. Folk and fairy tales are comprised of the most profound and protein storytelling materials. I've tried to write The Grinning Man from the same kind of stuff.'
Contributing to the fantastical 'otherness' of Grinpayne's world is the astonishing puppetry of Gyre & Gimble, the puppeteers that Morris originally worked with on War Horse – with striking set design from Jon Bausor (Bat Out Of Hell).
There have been rewrites for the London transfer and the running time has been cut. 'It feels like a new version, a new generation of the same show,' says Morris. In Bristol, the director reports, people started dressing up as the characters and coming to see The Grinning Man more than once. 'It immediately became a phenomenon that people were talking about.'
If the team can create that same magic at the Trafalgar Studios, it seems pretty likely that they'll have a hit on their hands.
Interview by Jo Caird