Trafalgar Entertainment Executive Producer, Daniel Brodie, today (17 July 2023) visited Great Ormond Street Hospital (GOSH), to present a £221,000 cheque for Great Ormond Street Hospital Children's Charity (GOSH Charity) on behalf of team members at TE's UK Theatre venues.
The donation will help fund a new Critical Care Unit at GOSH for children across the UK and beyond who are dealing with the most serious and life-threatening illnesses. The facility will ensure a better experience and outcomes for these children and will be built within the new Children's Cancer Centre – for which GOSH Charity is hoping to raise £300m as part of its biggest ever fundraising appeal, Build it. Beat it. While four floors of the Children's Cancer Centre will be dedicated to cancer services, the Critical Care Unit will deliver care and treatment across many clinical specialties at GOSH.
The money has been raised thanks to more than two years of online donations and bucket collections at TE's UK venues including the Swan Theatre High Wycombe, Orchard Theatre Dartford, Crewe Lyceum and Southend Theatres. Trafalgar Theatres will continue to collect donations throughout the 2023/24 pantomime season at all of its UK venues.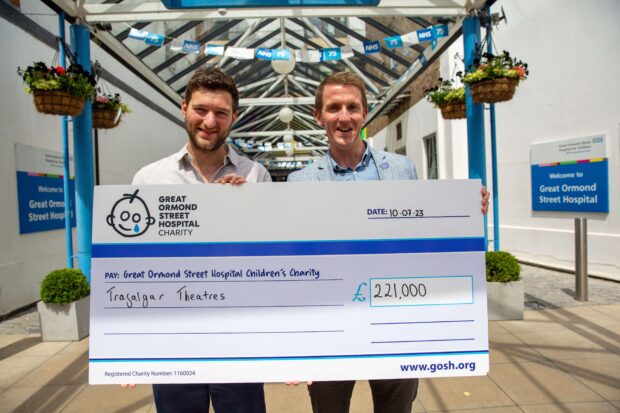 Dan Brodie with Luke Holmes (Senior Philanthropy Manager - Tick Tock Club)
Daniel Brodie said: "Great Ormond Street Hospital is a cause very close to my heart. GOSH saved my sister's life when she was born, and she received treatment at the hospital for many years. My cousin lost his first child to a brain tumour which GOSH treated and although it was ultimately incurable, they were amazing and helped them through a very traumatic time. Our family are so grateful for everything they have done for us.
"It's wonderful to be back here today to present this donation on behalf of our customers. I'm delighted that we've been able to raise such an incredible amount of money through our venues, particularly throughout the pantomime season, so thank you to everyone who kindly donated to this hugely important charity."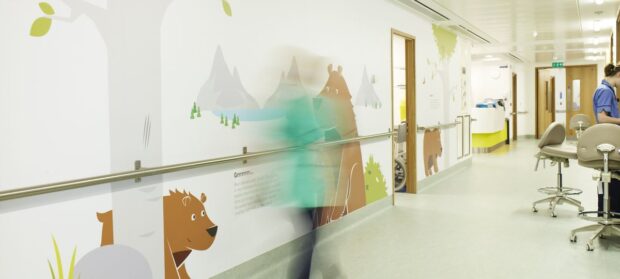 GOSH Charity's Director of Fundraising, Liz Tait, said: "We are extremely grateful to Trafalgar Entertainment, the teams in the venues, and to all the theatregoers who have given generously to fund a new Critical Care Unit at GOSH, which will be situated within the revolutionary Children's Cancer Centre. 
"Around 1,300 children from across the UK and beyond are treated at GOSH's current Critical Care Unit every year. The new facility has the potential to transform the care these children receive and will feature specially designed spaces and infrastructure to ensure parents can stay close to their child during treatment, enable staff to have much-needed respite, and lead to better experiences and outcomes for children and their families." 
Trafalgar Entertainment's Joint CEO, Rosemary Squire, also has a long association with the GOSH Charity having helped raise over £6m as Chairman of the Theatres for Theatres Appeal.
Subsequently as Chairman of the GOSH Charity's Tick Tock Club – a high-value giving club for people passionate about children's healthcare – she helped raise almost £14m for the hospital's first intraoperative MRI suite. This is a specialised facility combining an operating theatre and interconnected scanning suite to enable real-time imaging during complex brain surgery.